Description
These pink quilted leather baby shoes for girls feature faux laces and a leather bow on the hook and loop ankle strap. Designed to look like Mom's athletic sneaker, these shoes are perfect for your baby, infant or toddler as they take their first steps and begin to walk.
Leather and suede with suede sole and split rubber outsole
More shoe-like fit than our Soft Soles
Flexible soles and cushioned foam insoles provides protection, comfort and flexibility for healthy foot growth
Non-skid, split rubber outsole helps prevent your child from slipping
Elasticized backs and hook and loop adjustable fasteners provide "easy on, stay on" functionality
Recommended that children with sensitive feet and ankles should wear socks with this shoe
Approved by the American Podiatric Medical Association
Spot clean with a mild detergent and damp cloth
Made in China
<
Mini Shoez Benefits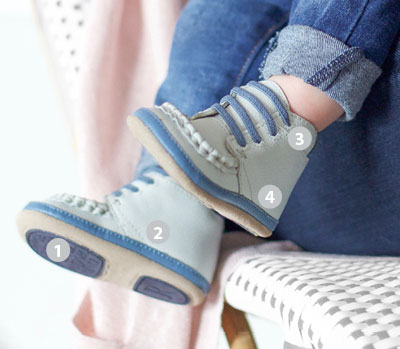 Our Mini Shoez have a stylish and fun appeal as they take their fashion cues from styles that Mom or Dad might wear. They flex and bend with every step while providing extra protection as they promote good balance and unrestricted growth.
1. Split rubber sole provides added protection and support
2. Cushioned insole gives added support and comfort
3. Elasticized ankle makes it easy to put shoe on or off
4. Structured fit has more shoe like feel