Description
This brown leather sandal is perfect for your infant when the weather is warmer. A hook and loop closure ankle strap make this baby sandal easy to put on. Part of our new First Kicks collection, this shoe has a shoe-like fit and a cushioned insole like our Mini Shoez, but a soft sole suede bottom like our Soft Soles.
Leather with suede sole
Sizing is more shoe-like; narrower and snugger than Soft Soles
Flexible soles and cushioned foam insoles provides protection, comfort and flexibility for healthy foot growth
Elasticized back and hook and loop closure ankle strap provide "easy on, stay on" functionality
"Robeez" is embossed in the suede sole
Best for indoor use and light outdoor activity
Approved by the American Podiatric Medical Association
Spot clean with a mild detergent and damp cloth
Made in China
First Kicks Collection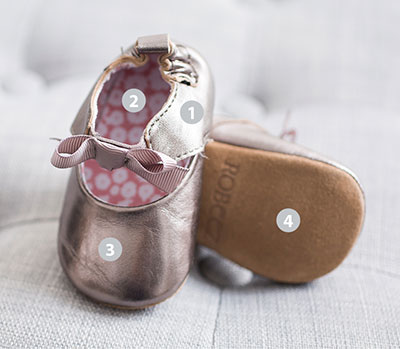 First Kicks, our structured soft-soled shoe collection features a cushioned insole for added protection and comfort. With mini-me styling and a fit that's snug yet flexible, this collection is the perfect for early and beginner walkers.
1. Shoe-like construction provides closer fit

2. Cushioned insole for added comfort
3. Premium Leather is super soft on baby's foot
4. Soft sole provides flexibility