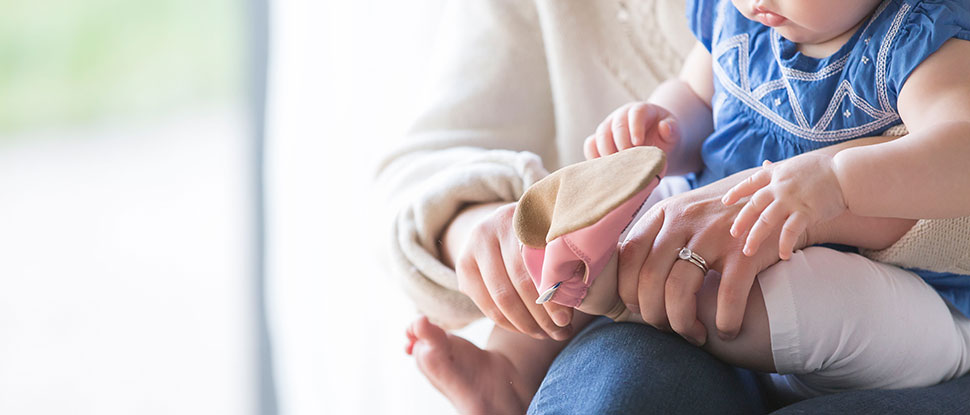 At Robeez it's our mission to promote healthy foot development in babies all around the world. We don't just want to make safe and reliable shoes for little ones; we want to empower parents by giving them the knowledge they need to make informed choices about their children's footwear. Our expertise in childhood foot development has earned us the prestigious Seal of Acceptance from the American Podiatric Medical Association, and now we want to share that wisdom with you. Read on to learn why Robeez shoes are the best choice for your child's podiatric health.
Barefoot is Best
Composed of mostly cartilage at birth, the bones in an infant's foot are beginning a long process of ossification that will last for as long as eighteen years. Children's feet are especially malleable in their first years, so it's important that they are allowed to develop naturally, without shoes or other footwear affecting their structural progress. Babies need ample room to wiggle, fidget, and flex their feet to develop muscle strength and dexterity, and there's no better way to do that than to go barefoot.
But what about when you need to protect their little piggies from the elements? Robeez shoes are designed to mimic the experience of going barefoot by providing all the room a developing foot needs. Soft-soled and made with premium leather, they're flexible enough to bend with every movement. They never pinch, squeeze or constrain, and they're shaped just right for pudgy little feet. Our shoes are as barefoot as it gets.
The Healthy Way to Walk
As you might guess, walking has a whole lot to do with the healthy development of your child's feet. Learning to walk in poorly-designed shoes can adversely affect not only the structure of the foot, but also the alignment of bones in the legs and spine as they respond to those changes in the foot. A healthy shoe, on the other hand, allows little feet to explore new terrain in their natural state. Healthy shoes should never constrict or cause tension that could place strain on bones and muscles already taxed with the big job of learning how to walk.
When learning balance and strength, cruisers and new walkers grip with their toes, relying on the feel of the ground. Designing baby shoes with this in mind, Robeez has long been a proponent of the soft-soled shoe for its barely-there feel. While still protective and warm, the soft sole allows a child's feet to interact with the ground as if they were barefoot, providing all the conditions they need to develop flexibility, muscle tone, strength, ankle function and balance. Inherently minimalist, soft-soled baby shoes are less clunky and easier for children to pick up as they take their first steps, and ours are designed with non-slip suede and leather soles to limit slipping and sliding.
Health-Conscious Simplicity
Part of what makes Robeez shoes ideal for healthy foot development is their simplicity. Other shoes are designed with unnecessary features that put your child at risk for a number of podiatric disorders. Heels and molding for arch support—features in a surprising number of baby shoes—artificially alter the shape of new walkers' highly malleable feet, creating misalignment within the feet, legs and spine.
Still, a common misconception that babies with flat feet require arch support continues to circulate. In fact, all babies are born with flat feet due to a padding of fat in the arch. This baby fat helps to support the foot as it continues to ossify, and an arch won't truly develop until around ages two to three. Knowing this, Robeez never makes shoes with structures that could impede or adversely affect your child's podiatric development. We truly believe in keeping it simple.
At Robeez we prioritize the health of your child's feet over all else, providing stylish choices in healthy footwear to parents around the globe. Discover the benefits of soft-soled shoes for tiny toes as you prepare them for life's big adventure.